OCEAN RIDE
SURFING LESSONS IN LACANAU
---
PRESENTATION OF OUR
SURF COURSES IN LACANAU
More than 15 years of experience, teaching and sharing
OCEAN RIDE is a surf and bodyboard school certified by the French Federation of Surfing opened every day from April to November in Lacanau-Ocean. The school founders are Thibault and Damien, two local surfers sharing their passion and knowledge.
The school is located in a unique beach in front of the waves on the Promenade Emile Lacaze (with direct access to the beach) and close to the town center. Our school offers a main reception, separate women's/men's changing rooms, showers and a storage room for equipment. Our philosophy : quality and friendly surf lessons and environmental awareness in Lacanau.
SURF LESSONS FOR BEGINNERS
Surfing is a sport that can be practiced by people of all ages and levels. If you are new to surfing, it is important to have qualified people accompany you. This will help you learn the basics of the sport and increase your chances of having a safe and enjoyable surfing experience. Taking a beginner's surf lesson will optimize your learning experience, especially if your stay is only a few weeks long.
Team and History
Childhood friends, Thibault and Damien grew up between freesurfing and competitions in the Lacanau Surf Club team. In 2003, they obtain together their diploma for surf teaching. After few years working in different surfschools, they finally launch their own structure in 2010 : OCEAN RIDE !!!
In 2012, they have a nice opportunity, : OCEAN RIDE moves on the South beach seafront. Who has never dreamed of seeing waves from their office ?
Their institution is now a referent surf school in Lacanau and keep evolving. Became eco-responsible, the school preserves environment by encouraging and participating to protect its playground.
Their goal is to share their passion with you in a warm and relaxed atmosphere. For that, they are supported by a great team : Ben, the wise man of the team, surf instructor on their side for 8 years ; Léa, the ray of sunshine that welcomes you with smile ; and also all other instructors and welcoming staff here to drive you and help you to improve your surfing.
And it's of course thanks to you that this adventure is possible : »thanks for your support and trust. It's always a pleasure to welcome you, to surf and to laugh with you… »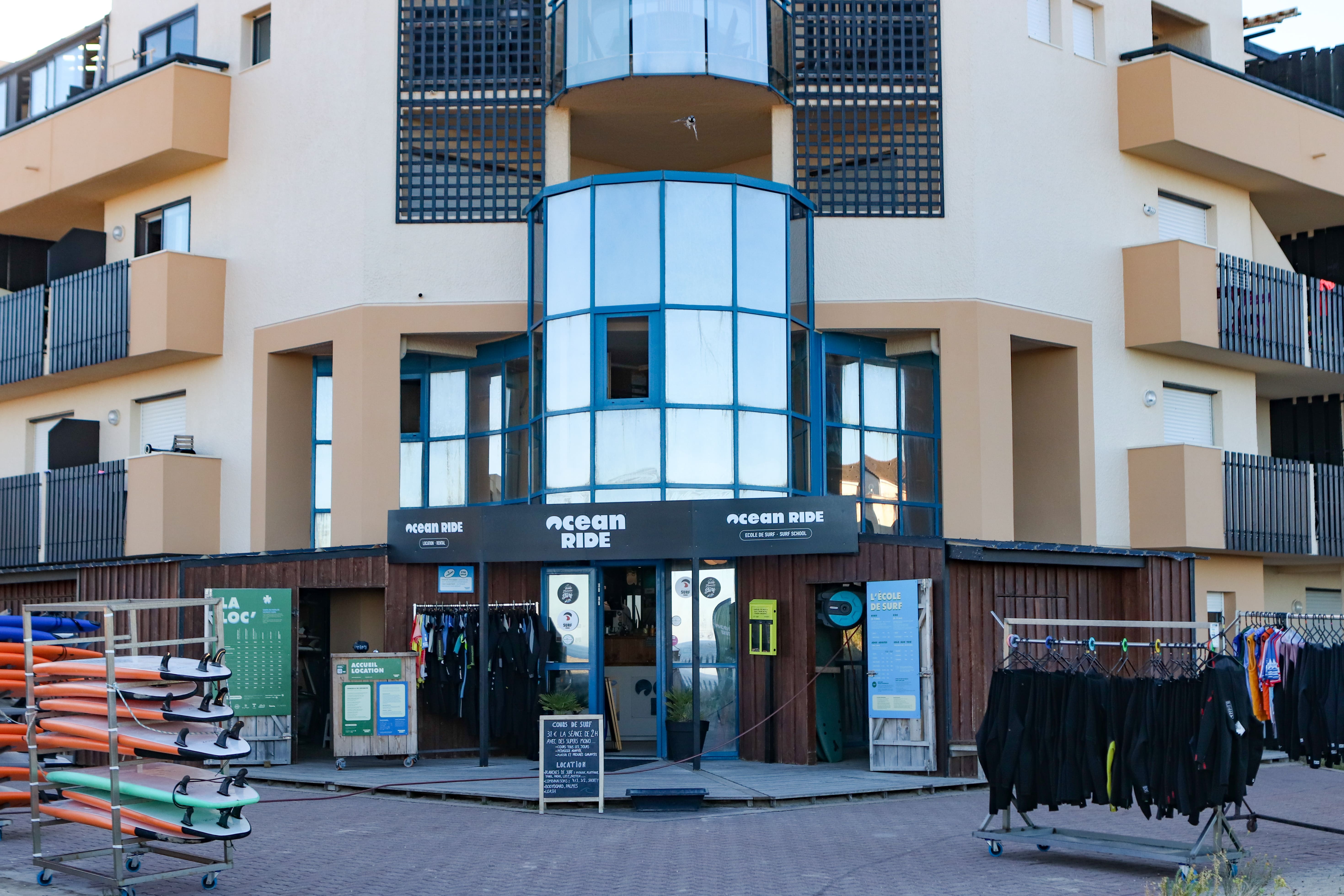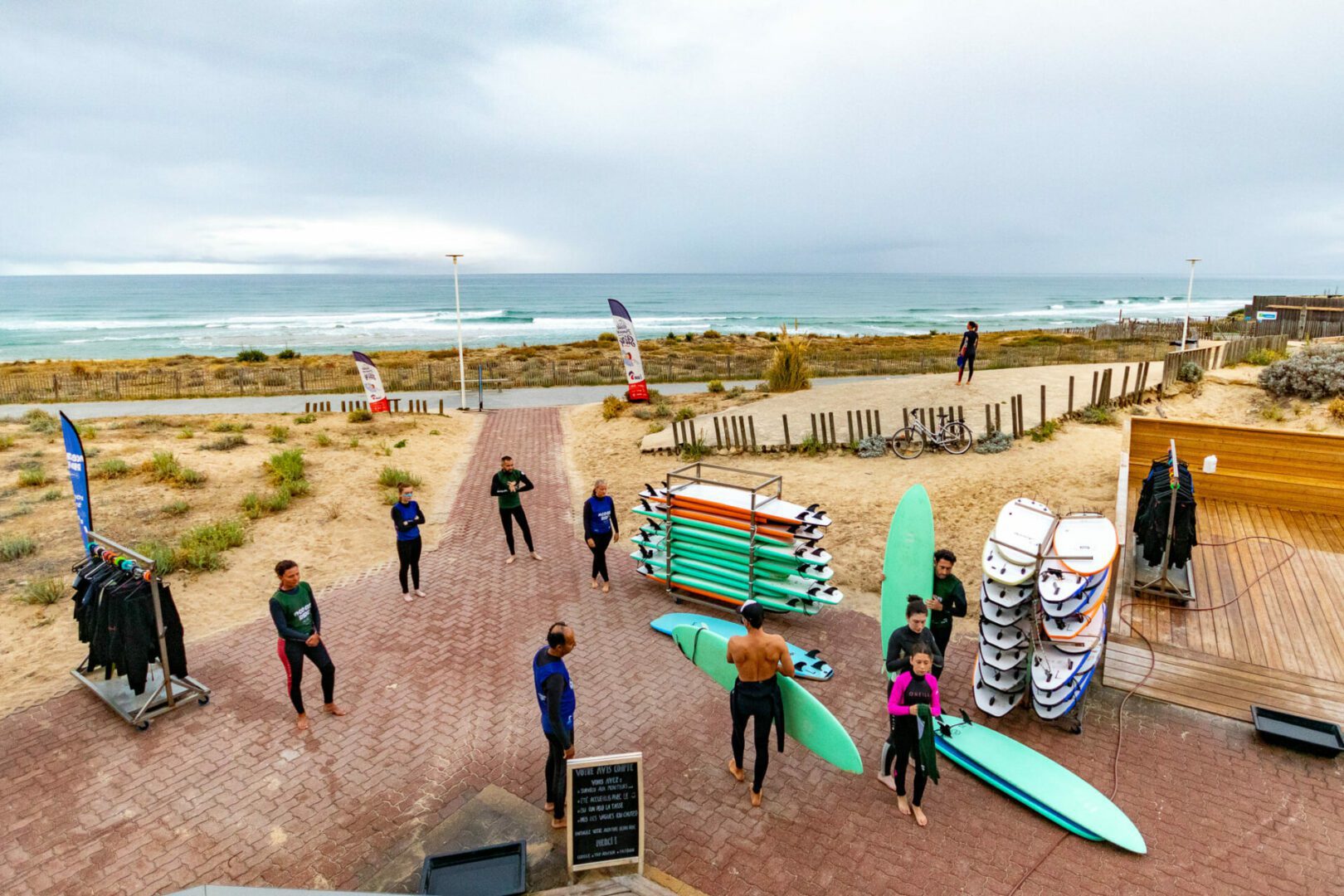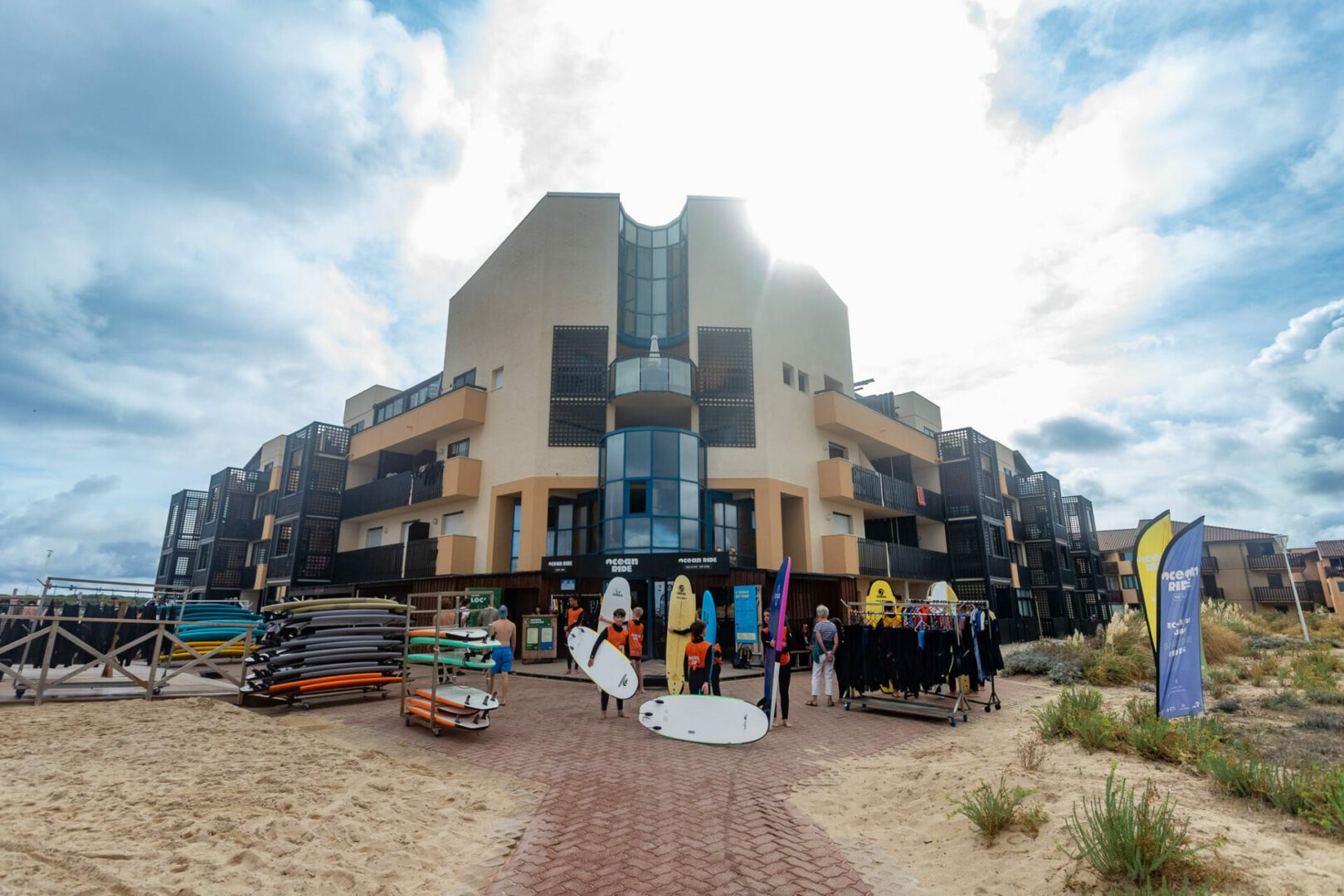 Labels
Since 2014 OCEAN RIDE is affiliated to and certified by the French Federation of Surfing. The school is part of a quality approach to give the best to our surfers.
In fact, surfschools certified by the FFS undertake to respect a Quality approach :
Regulation (registration, licence and updated regulatory documents).
Security supervision and safe coaching.
Appropriate and high-quality teaching (instructor's services and behavior, teaching, pedagogy, awareness, environmental respect).
Friendly welcome.
Premise and equipment (cleaning, storing, quality of boards and wetsuit).
Concerned about improving ourselves, minimizing our impact on the environment and promoting individual and collective development, OCEAN RIDE is committed to a respectful and eco-responsible approach. We are members of the association Acteurs du Tourisme Durable and we are committed to contribute to understanding and respect between individuals, to gender equity and to integrating environmental and climate issues. We hope, through our various actions and the implementation of good professional practices, to raise awareness of our customers and to encourage reasonable behaviors.
Still with the aim to protect and to preserve our playground, we have been a member since 2018 of Surfrider Foundation Europe. Surfrider is a non-profit organisation whose purpose is to protect and showcase the importance of lakes, rivers, the ocean, waves, and coastlines. Our commitment is reflected by :
« 1 session, 1 waste » pick up at least one waste after a surf lesson at OCEAN RIDE.
Using eco friendly, biodegradable and recycling product (bacterless, wax, sunscreen…).
Waste-sorting.
Ashtray Tree6clope.
Educate and inform our surfers.
Reducing our energy comsuption.